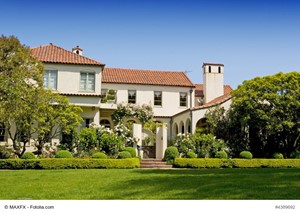 If you plan to sell a California luxury house, there is a lot that you need to consider ahead of time. In fact, the key factors to assess before you list a Golden State luxury residence are:
1. Your Luxury Home's Condition
Regardless of whether you intend to list a luxury house in Beverly Hills, Malibu or another California city or town, your residence's condition may determine how quickly your house sells. Fortunately, if you conduct a home inspection, you can learn about your residence's strengths and weaknesses and plan accordingly.
A home inspection offers a valuable learning opportunity for any California luxury home seller. It enables a home inspector to examine your luxury residence both inside and out. Then, a home inspector will provide you with a report that details his or her findings.
Review a home inspection report closely – you'll be glad you did. If you examine this report, you can find out about problem areas in your luxury house and resolve these issues prior to adding your residence to the Golden State real estate market.
2. Your Luxury Home's Value
California luxury houses are valuable, but the current housing market may impact a luxury residence's value. Thus, you'll want to learn as much as possible about the local housing market so that you can price your luxury residence appropriately.
Golden State luxury houses in some cities and towns may be priced higher than others. For example, a luxury home in San Francisco may be priced higher than a similar luxury residence in Oakland, despite the fact that these two cities are close to one another. But if you examine the prices of available luxury houses in your California city or town, you can get a better idea about how to price your residence based on the competition.
Furthermore, it helps to conduct a home appraisal before listing a California luxury residence. Following an appraisal, you can receive a property valuation that you can use to determine exactly how to price your residence.
3. How to Promote Your Luxury House to the Right Groups of Buyers
Selling a California luxury house may prove to be a long, arduous process, particularly for those who are uncertain about how to promote a residence to the right groups of buyers. Luckily, real estate agents are available that serve as Golden State luxury housing market experts, and these professionals can showcase your residence to the right buyers, at the right time, every time.
Usually, a real estate agent will learn about you and your home selling goals and establish a personalized home selling strategy. This means that the home selling strategy for a San Jose luxury home seller likely will differ from that of a Los Angeles luxury home seller. And with a personalized strategy in place, you'll be better equipped than ever before to enjoy a fast, profitable home selling experience.
Ready to list your California luxury residence? Consider the aforementioned factors in advance, and you can boost the likelihood of a successful home selling journey.